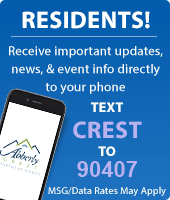 Abberly Crest is now offering our residents the ability to receive important updates, news, and events directly to your mobile phone!

Simply text the word crest to 90407
....or you can click the link below to sign up online!.
Register for Abberly Crest Mobile Updates
Message and data rates may apply.
Testimonials
Derrick and the Abberly Crest team did such a great job servicing and replacing my refrigerator in one day! Keep up the fast and excellent work guys! Can't thank you all enough!

- Verified Resident
Great service call ! Thanks to Jason!

- Verified Resident
Derrick and Jesse provided excellent customer service and ensured the ac unit worked properly before leaving. They were prompt and professional. Thank you

- Verified Resident
This is the best development in the county. I love living here. I would recommend this to move here. The staff and maintenance department are awesome. They ensure the tenants are satfsfied 24/7.

- Verified Resident
I WOULD LIKE THANK Estella for taking her time show me the place around the neighborhood and I thank her for helping me get the place for me and my daughter,

- Verified Resident
"I have been a resident for a little over a year now, and I have enjoyed my stay. I have never felt such a sense of community as I have here. I really appreciate that. The staff is always available, and friendly. A wonderful lady in the front office named Lene is always hands of and ready to help. All in all, If your considering this neighborhood, it will be the right choice. Give them a call and ask for Lene! - Sheka T. "

- Verified Resident
"Could not have chosen a better place .I would like to say a big THANK YOU to Mrs. Lene McAdoo for taking her time to help me pick an apartment. Her customer service skill was outstanding, very polite, welcoming and excellent. Maintenance is superb in fixing stuff when i first moved in."

- Verified Resident
"This is the best development in the county. I love living here. I would recommend this to move here. The staff and maintenance department are awesome. They ensure the tenants are satfsfied 24/7."

- Verified Resident
"Wonderful leasing office personnel who are all about commitment to the renters satisfaction. Everyone is always friendly and goes the extra mile. Maintenance personnel are timely, experienced, and professional"

- Verified Resident
"Renting at this apartment has been a great experience. Maintenance is very fast and willing to help. This complex is great and so are all the amenities. I had the easiest time working with the staff here trying to get an apartment on such short notice. This place is great and I would recommend this complex to everyone. "

- Verified Resident
"Derrick and the Abberly Crest team did such a great job servicing and replacing my refrigerator in one day! Keep up the fast and excellent work guys! Can't thank you all enough!"

- Verified Resident
"Hello, I wanted to leave feedback regarding the tour I took with Rebecca Lesko. It was a very enjoyable experience as I am looking at places due to future employment. Rebecca

- Verified Resident
"Amy is great, and she has always been very helpful and professional from our application to moving in. "

- Verified Resident
"I am extremely pleased with the team at Abberly Crest. Casey Viator and her team are amazing! They are so friendly and accommodating. I have referred many to Abberly Crest versus all the other complexes because of the people. From the grounds team to the office leasing agents. All top notch! Thank you so much! "

- Verified Resident
"I just want to say Pete the service manager was amazing. I had a wasp infestation in my screened in porch and no one could figure out why. Multiple attempts to spray it would not fix the problem. He came out and went above and beyond. He took the screen down, sprayed foam to cover any way for them to get in. Sprayed all over and killed all the ones inside. He even stopped by a few days later to make sure they haven't come back and they didn't. So grateful he did this as I am terrified of wasps

- Verified Resident
"Derrick is a very impressive young man. He came to fix our problem with our refrigerator ice maker & promised to come back to see if it was working the way he wanted. He came back close to 5pm. Even though his day ends at 5pm he followed through on his promise. When he returned he changed the bottle in the back of the refrigerator. He also replaced the water valve. He

- Verified Resident
"I have only lived here for one month, but the staff is awesome so far. Maintenance staff are great as well. They all are very professional and prompt with all repairs. The office staff not only act professional, but they dress very professional too."

- Verified Resident
"David performed the following services for us: remounted the hall toilet; replaced a bedroom Venetian blind; replaced the dishwasher soap compartment; opened the ceiling vent in master bedroom. He did a very thorough job; especially with the toilet. David is very personable as well. He

- Verified Resident
"Estela was absolutely amazing through the apartment looking process. She gave an extremely good tour and had correct answers for all the questions I threw at her. She has gone above and beyond what I expected. I would recommend this apartment complex and her to anyone moving to the area."

- Verified Resident
"Ms. Estela Dizon went above and beyond to help me secure a new home for the start of my new job. I am extremely grateful for her help and constant availability. She made sure that any questions or issues I had were resolved immediately and helped make a somewhat complicated moving/new job situation a lot easier to deal with. I appreciate her help and honesty and hope to continue a positive relationship with her moving forward into the future."

- Verified Resident